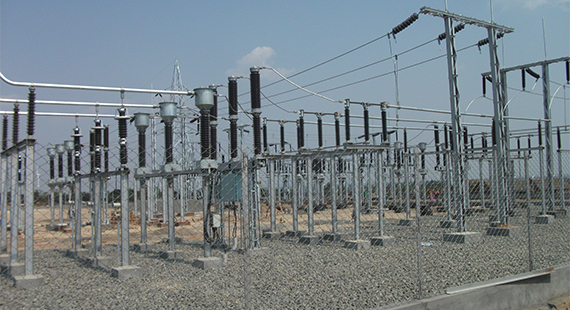 MAA HARSIDDHI INFRA DEVELOPERS PRIVATE LIMITED
offers unified approach to fulfill a magnitude of Services in Corporate & Govt. Sectors. Specific requirements of each Project with proven ability to meet these requirements within pre- established Financial, Manpower and time limits arrangements.
At MAA HARSIDDHI Infra Developers Private Limited, the design of services system is a process beginning with ideas translated into Plans, which are then carefully divided, allocated and coordinated through each phase of activity to produce the desired result of providing excellent end result.
Company has a reputation of a genuine service provider in Electrical construction for Govt. Sectors and private industries. It might not have been possible without blessing of its clients and "never say die & try forever attitude" of each young and dynamic Professional & Director (Mr. K. B. Ella Rao).
It would not be out of place to mention that, we are engaged in EPC work for State DISCOMS and we carry all the related technical and other experience and resources to complete the work assigned in a time bound manner. Our team includes well qualified and skilled staff who do best performance in the field and receive due accolades and appreciation from field engineers of Electricity DISCOMS.
We never compromise in our work quality and therefore we are favorite contractors of the department. Since we are doing our job with complete sincerity and passion we are being motivated by the DISCOMS by way of recommending us and awarding us new contracts. Moreover we have also received early completion rewards from departments for early delivery of contracts taken. The company does not have any pending work, litigation or arbitration till date.
We don't leave any stone unturned in providing successful completion of the work & ensure esteemed satisfaction of our esteemed client. We are very thankful to our bankers, without whose support it would not have been possible to achieve the desired results.
Our Mission
"We at MHIDPL are committed to improving the quality of life of the communities we serve. We do this by striving for leadership and global competitiveness in the business sectors in which we operate".
To achieve this, we are focused to provide a level of service that will exceed the expectations of our clients, maintain the highest level of quality and provide our employees an opportunity to grow and prosper along with to strive to work towards benefit to mankind and humanity, to generate employment among villagers, to motivate our team within, to safeguard environmental hazards and last but not the least to contribute towards social obligations.
We AIM to make continuous improvements to our services and to all our team.
We operate an open and honest relationship with all of our clients and this includes joint decisions making processes, agreed objectives and anticipated goals.
We pride ourselves in quality that speaks itself without compromising safety and reliability.
Our Vision
"Keeping Dream, Determination and Destination as our pillars, we are committed to create employment for a crime-free healthier society and country. To raise the pride and glory of the nation, we are geared up to serve people by bringing opportunity and employment into their lives. With sheer dedication, scientific approach, astute planning and realism, we are poised to write a new success story for the world."
Our general policy of returning to society what we earn evokes trust among clients, employees and the community. We at MHIDPL are committed to protecting this heritage of leadership with trust, honesty, hard work and integrity in the manner in which we conduct our business .
We at MHIDPL are working towards the benefit of mankind and humanity by generating innumerable employment among villagers, taking extra precautions under environmental hazards, motivating each member of our team and striving to contribute towards social obligations.
Core Values
Generating Employment Opportunities and looking after employees welfare
Service to mankind and humanity
Awareness against social obligations and reforms
Precautions against environmental hazards
Transparency with vendors and clients
Overall Company's growth
Clients Satisfaction